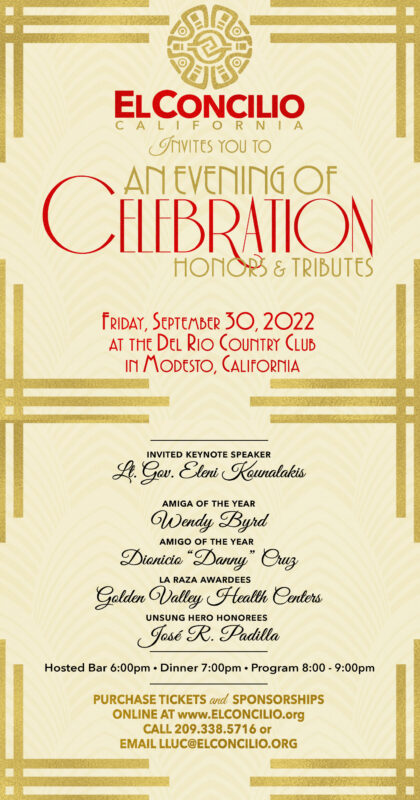 A dinner and awards night
AN EVENING OF CELEBRATION
Friday, September 30th, 2022Evening begins at 6 PM
Del Rio Country Club in Modesto
It's amazing that El Concilio is celebrating over 54 years of service to the underserved of the Central Valley. We have come so far over the years – and yet there is much more to do.
El Concilio is one of the nation's first organizations dedicated to advocating for equal opportunities for immigrants in the areas of employment, education, and housing. Today, we serve everyone – over 75,000 individuals annually – and have become the heart and home for those wishing to achieve a better way of life. We would not be what we are today were it not for the support of people like you.
Please join us in September as we celebrate El Concilio's years of commitment to the community. The night will be filled with conversation between old friends and new, music, dancing and an elegant menu created to meet our specifications, while at the same time, you'll be helping those in need.
We thank you for your support and generosity, and look forward to celebrating with you at our Evening of Celebration.