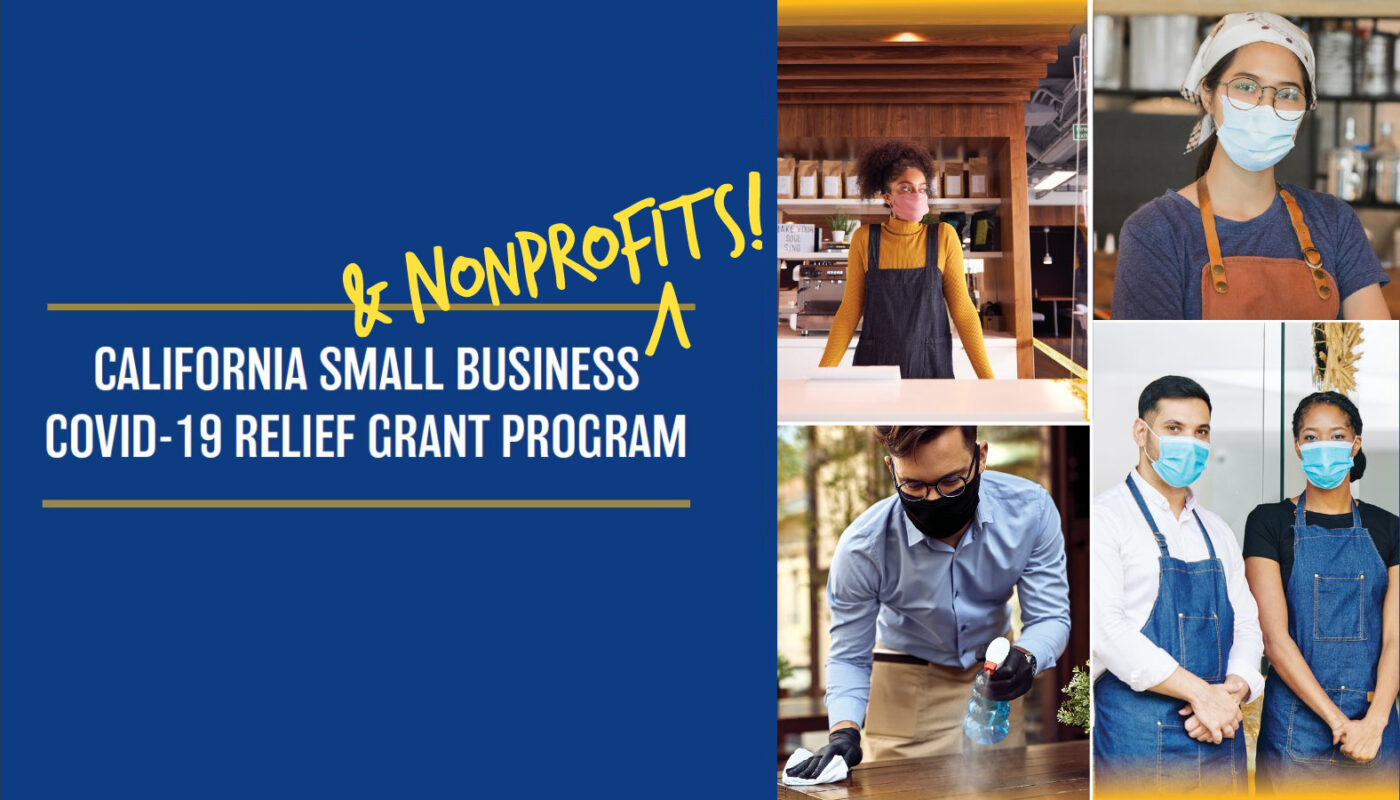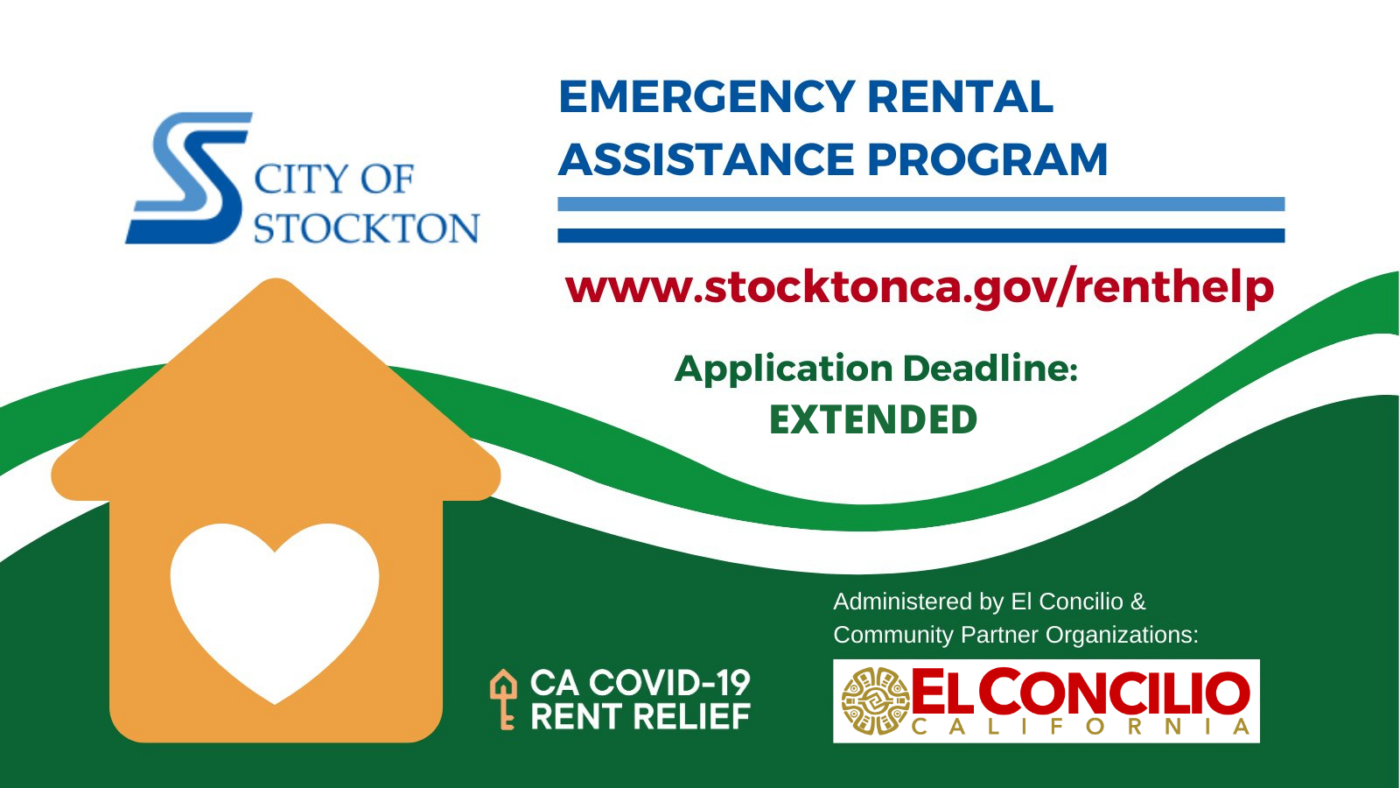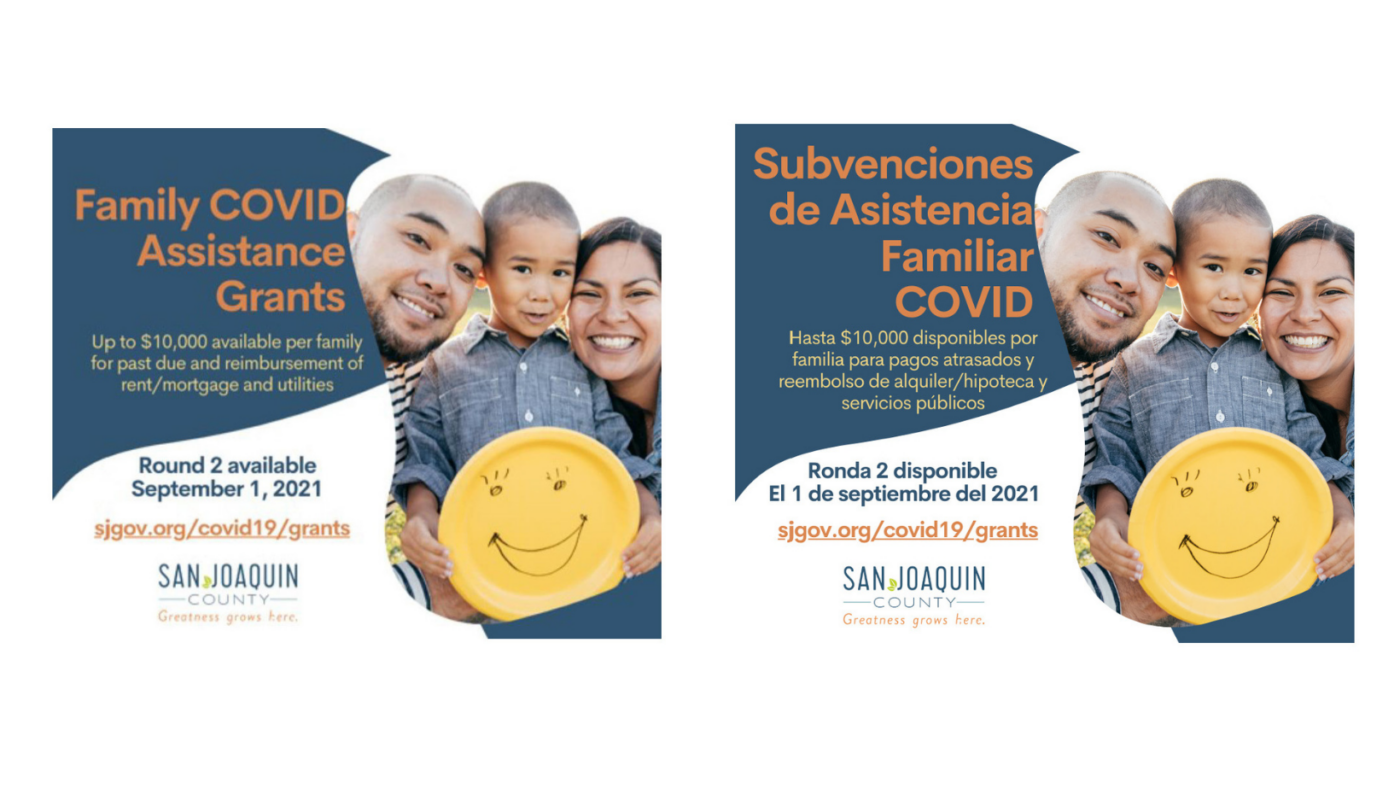 San Joaquin County
Family COVID Assistance Grant – Round 2
for homeowners and Renters
Apply Here
Application Information
Application period September 1, 2021 to September 30, 2021.
Grants will be issued on a first come, first served basis while funding lasts
Eligibility
Household income must be at or below 100% of Area Median Income
Household income must have been negatively impacted by the COVID-19 pandemic
Up to $10,000 available for past due (unpaid) rent, mortgage, and utilities, or reimbursement of paid rent, mortgage, and utilities during the documented period of financial harm due to the pandemic (with proper documentation)
Program Information
(209) 762-5260
Monday – Friday, 9:00 am – 6:00 pm
SJCRMU@elconcilio.org

Cal NOnProfits
COVID-19 RELIEF GRANT for Nonprofits
More thank 6,000 California nonprofits have received approximately $78 million this year from the California Relief Grant Program. There are two NEW application window for nonprofits and small businesses with $1.5 billion in new funding.
Apply Here
Three FUNding Rounds
The Office of Small Business Advocate has announced new funding rounds for grants of $5,000 – $25,000
Round 7: August 3rd to September 16th

Processing applications already on the waitlist, no new applicants accepted.

Round 8: August 27th to September 8th

Qualifying arts & agriculture organizations not already funded in other rounds.
Apply beginning Aug. 27th: crgacnpo.mylendistry.com

Round 9: September 9th to September 30th

New applicants, those denied for applying on the wrong form, and waitlisted applicants (those waitlisted do no reapply)
Round 8 applicants should also apply in Round 9, using a difference email address
Apply beginning. Sept. 9th: calnonprofits.mylendistry.com
COntact
For questions about the content of your application
Sue Sigler, CalNonprofits CSBG Program Manager
(415) 535-073(888) 612-437
8am – 6pm, M-F
sues@calnonprofits.org
for technical questions related to application status
Lendistry
(888) 612-437
 7am–7pm, M-F
careliefgrant@lendistry.com

CITY OF STOCKTON
Emergency Rental Assistance Program
FOR LANDLORDS OF RESIDENTIAL PROPERTIES
Apply Here
More Info
For More Assistance
6AM-6PM
209-644-2690
ERAP@elconcilio.org
The City of Stockton's Emergency Rental Assistance Program, launched on March 15, 2021, is intended to provide housing stability for families and individuals facing economic hardship caused by the COVID-19 pandemic. An application for rental assistance may be submitted by either an eligible household or landlord on behalf of an eligible household for 100% of all past due rent accrued from April 1, 2020 through September 30, 2021.
Eligible renters are also encouraged to apply for utility relief for the same time period.
Assistance may include the following eligible expenditures:
Unpaid tenant rent payments covering the period of April 1, 2020, to September 30, 2021 (up to 18 months of past due rental assistance), to help stabilize households by covering their past due rent amounts to prevent evictions.
Funds will be paid directly to the landlord and/or utility providers.
Eligible utility providers include PG&E, Cal Water, Garbage/Sewer, or other utility service provider.
ELIGIBLE PROGRAM PARTICIPANTS MUST:
An individual who has been unemployed for the 90 days prior to applying.
One or more tenants qualifies for unemployment or has experienced a reduction in household income, incurred significant costs, or experienced a financial hardship due to COVID-19.
Demonstrate a risk of experiencing homelessness or housing instability.
Provide documentation that verifies loss of income due to COVID-19.
Have current income that does not exceed 80% of area median income (AMI) based on family size; households with income below 50% area median income (AMI) will be prioritized.
Tenants may also be eligible for other housing expenses including relocations costs (such as rent and security deposits and rental fees, which may include application and/or screening fees.
All payments for housing expenses must be supported by documentary evidence such as a bill or invoice.