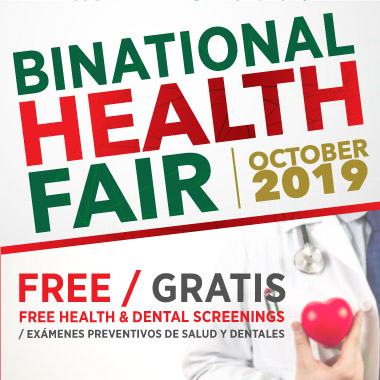 PRESENTED

by 

EL CONCILIO & THE TZU CHI FOUNDATION
Sunday, October 6 2019
8AM to 1PM
Hanshaw Middle School
1725 Las Vegas St.
Modesto, CA
FREE PREVENTATIVE HEALTH SCREENINGS 
AND

HEALTH EDUCATION FOR ALL AGES

, INCLUDING:
DENTAL

MEDICAL

ACUPUNCTURE

BLOOD PRESSURE CHECKS

VISION 

EXAMS

DIABETES EDUCATION & SCREENINGS

CHOLESTEROL SCREENINGS

BLOOD WORK

(do not eat 8 hours before arrival)
ALL SERVICES PROVIDED ON A FIRST COME FIRST SERVED BASIS. INTERPRETERS WILL BE AVAILABLE. ALL SERVICES WILL BE PROVIDED CONFIDENTIALLY REGARDLESS OF IMMIGRATION STATUS. UNINSURED AND UNDERINSURED WELCOME.
FREE HEALTH & DENTAL SCREENINGS
EMERGENCY PREPAREDNESS
CPR TRAINING (10AM AND 12PM)
SEASONAL FLU SHOTS
COMMUNITY RESOURCES
ACTIVITIES, GAMES & PRIZES